White vs. Silver Fillings for Oral Health and Aesthetics
Each member of our staff at Smile Montreal has a passion for providing patients with the highest quality dental solutions. We offer the latest in technology and techniques, including tooth-colored dental fillings. Our white fillings are color-matched to blend in seamlessly with the rest of your smile and reduce the appearance of gray spots on your teeth. Dr. Patrick Casey can explain the advantages of white vs. silver fillings to patients at our Montreal, QC, dental office. After a consultation, Dr. Casey can help you determine what treatment may be best-suited for your smile.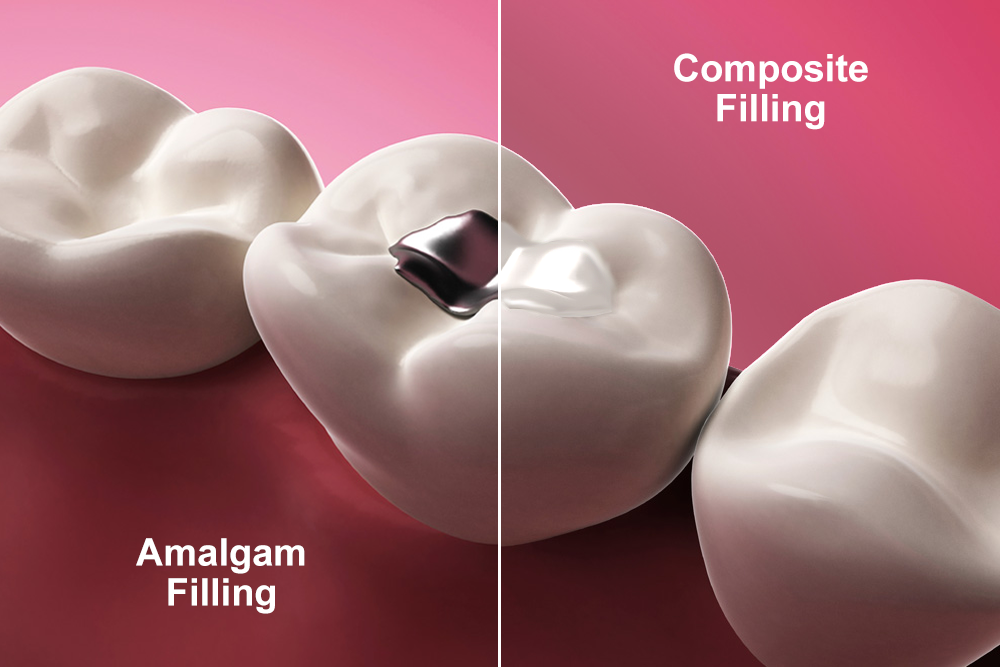 Silver Amalgam Fillings
Silver amalgam fillings are a time-tested, proven, and effective treatment for cavities. However, the dark silver color can detract from the beauty of your naturally white teeth. Silver amalgam fillings can also contain small amounts of mercury. While it is typically not harmful in such trace amounts, elderly patients, pregnant women, and those with sensitivity to heavy metals can experience complications, and should avoid amalgam fillings whenever possible.
Composite resin fillings have been found to provide cosmetic and functional benefits over their metal counterparts.
Silver fillings require a significant amount of healthy tooth to be removed because of their large size. Temperature fluctuations can cause metal fillings to expand and contract, leading to cracks in the patient's teeth and causing the restorations to become loose and fall out. Despite these faults, silver amalgam fillings have been the best solution to treat cavities for over a century. More recently however, composite resin fillings have been found to provide cosmetic and functional benefits over their metal counterparts.
Tooth-Colored Fillings
Made from a composite resin like the material in dental bonding, white fillings can provide patients with an aesthetic advantage over traditional silver amalgam fillings. Due to the material's pliability, the doctor can easily mold the resin to fit the cavity in the tooth, reducing the amount of healthy tooth that needs to be removed to accommodate the filling. Dr. Casey will match the shade of the material to the surrounding teeth so that your filling will be virtually indistinguishable within your smile. The white color makes these fillings a great option for filling cavities in the front or back teeth.
Dr. Casey can place composite resin fillings relatively quickly and easily. After performing an examination of your teeth and a professional cleaning, Dr. Casey will remove the decayed portion of your infected tooth. He will prepare the resin by tinting it to match your surrounding teeth. After placing the filling, he will mold and shape it to ensure that it forms a complete seal and does not affect your bite.
When Dr. Casey places a composite resin filling, it forms a chemical bond with the tooth, adding support to the structure of the tooth. The durability of composite resin fillings allow them to withstand the pressure of chewing and speaking, and with proper care, they can last ten years or more. White fillings may cost more than their silver amalgam counterparts, but it is important to understand that they are a smart investment in your smile.
Call Us for an Appointment
If you have cavities that need to be treated and you would like to learn more about the differences between white and silver fillings, please contact our practice to make an appointment with Dr. Casey.