Understanding the Steps in a Dental Implant Procedure
Missing teeth can affect nearly every aspect of your life. Your appearance, speech, eating habits, and self-esteem can all suffer as a result of tooth loss. Dental implants can secure permanent, durable replacements for your missing teeth. Drs. Charles and Patrick Casey will fix these tiny metal posts in your jaw during a personalized dental implant procedure. At Smile Montreal, we use the latest technology and careful planning to ensure superior results. Our dentists can perform all aspects of implant placement here in our office. We also offer effective sedation to ensure your comfort. Contact us today to learn more about implants and what you can expect during your treatment.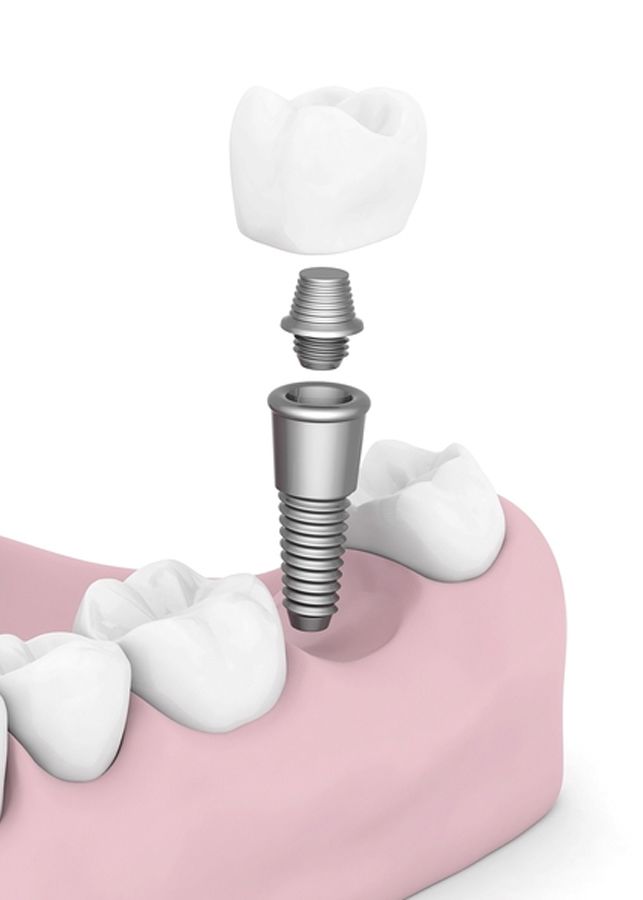 Your Consultation and Evaluation
Before you can undergo treatment, your dentist will need to make sure that you are a good candidate for implants. Generally, most people who are missing one or more teeth are able to receive implants. However, if you have severe gum disease, an autoimmune disorder, or another serious health condition, we may recommend a different restorative treatment. After determining that implants are right for you, Dr. Charles or Dr. Patrick Casey will begin planning your procedure. At Smile Montreal, we are proud to be one of the few practices in Canada using an i-CAT® cone beam scanner. This system will capture 3-D digital images of your jaw. With these pictures, your dentist can look for signs of bone recession, and he can find the strongest areas for implant placement.
Preliminary Procedures
Bone degeneration is a common effect of tooth loss. In some cases, it can compromise your ability to receive dental implants. However, in many instances, Dr. Charles or Dr. Patrick Casey can perform a bone graft or sinus lift. These procedures will restore lost bone tissue and improve your candidacy for implants. During a bone graft, your dentist will take a small sample of your own bone. In some cases, he may use donor bone or a lab-made material instead. By placing this tissue in the treatment area, he will build up your jaw and create a strong base for the implants.
Sinus lifts are also used to improve patients' candidacy. Your dentist may recommend this treatment if you have lost bone volume on your upper jaw. In addition to building up your bone, he will relocate your sinus floor. Through this procedure, he can create room for the implants and prevent damage to the nerves that run through this area. Thanks to our dentists' surgical skill and treatment planning, your procedure will pose negligible risks.
Implant Placement
After any initial preparatory procedures, your dentist will place the implants themselves. He will first numb your gums and jawbone with local anesthesia. In many cases, he will also use another sedation method to help you relax. We offer both oral and intravenous (IV) sedation, and we will help select the right type for you. Once you are comfortable your doctor will create small incisions in your gums, allowing him to place the titanium posts in the jaw. He will work precisely, using the treatment plan developed in your initial consultation. Once the implants are in place, he will close up your gums with tiny sutures.
Healing and Restoration
It will usually take about four to six months for your gums and jaw to heal fully. During this time, the metal implants will integrate with your jawbone, becoming firmly rooted in your mouth. Although we cannot provide your permanent restoration until you have recovered, we can usually supply a temporary restoration during this time. In the meantime, our world-renowned partner ceramist will craft a crown, bridge, or denture that is virtually identical to your natural teeth. When your jaw has completely healed, you will return to our office. Then your dentist will attach abutment pieces and the restoration on top of your implants. Once in place, the restoration will never slip or wobble like other dental prosthetics.
Contact Us to Begin Planning Your Procedure
We focus on patient education so you can feel confident in your decision. To learn more about the implant procedure, contact Smile Montreal and schedule your treatment evaluation.