Our Oral Sleep Apnea Appliances Can Help You Get a Better Night's Sleep
At Smile Montreal in Quebec, we offer oral sleep apnea appliances, which can be used as an alternative to or in conjunction with continuous positive airway pressure (CPAP) treatment. These appliances fit comfortably in your mouth, opening your airway while you sleep. Drs. Charles and Patrick Casey can provide you with a customized solution to address your sleep apnea needs so you can start getting a better night's sleep.
Do You Suffer from Sleep Apnea?
Obstructive sleep apnea (OSA) is one of the most common forms of sleep apnea, affecting nearly 20 million Americans. The disorder is characterized by a severe relaxation of the muscles at the back of the throat during sleep, which blocks the airway. Patients with sleep apnea stop breathing hundreds of times each night and often experience symptoms such as loud snoring, fatigue, headaches, dry mouth, and insomnia.
If you believe you have OSA, you should first obtain a proper diagnosis through a sleep study before pursuing treatment. If you are already receiving treatment for OSA with CPAP, you may benefit from including an oral appliance. Unfortunately, oral appliances are ineffective at treating central sleep apnea (CSA), which involves improper signals from the brain.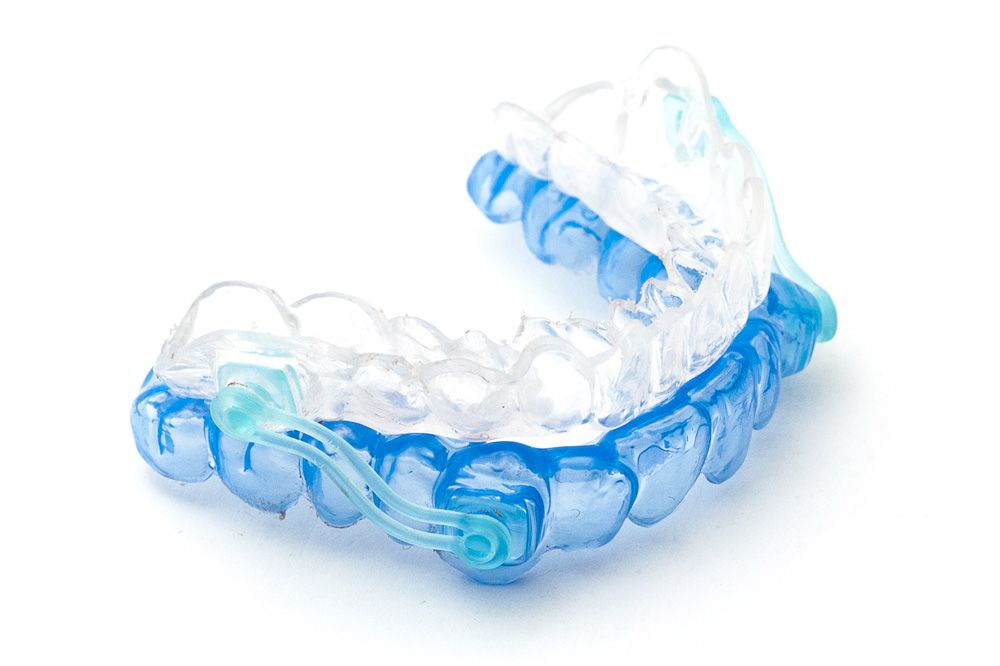 Our Oral Sleep Apnea Appliances
At Smile Montreal, patients with sleep apnea receive personalized treatment. Our oral appliances are custom-fitted to provide you with maximum comfort and improvement in your OSA symptoms. We use SomnoMed® oral appliances, which are worn over the upper and lower teeth, similar to a sports mouth guard. This oral appliance, however, pushes the lower jaw slightly forward. In doing so, the airway is kept open, preventing interruptions in breathing.
When you come to our office, we can discuss your symptoms and your OSA diagnosis with you in detail and then review the oral appliance with you. Then we can take impressions of your teeth, which we will send to SomnoMed so they can fabricate your custom device. When we receive the oral appliance, you can return to our office where we will ensure a proper fit. SomnoMed appliances are adjustable, so we can fit it so that you are still comfortable while your lower jaw is in a forward position.
Our oral appliances are custom-fitted to provide you with maximum comfort and improvement in your OSA symptoms.
How Patients Can Benefit from Treatment
Oral appliances are the least invasive and most comfortable line of treatment for sleep apnea. There are no uncomfortable or conspicuous masks to wear to bed each night. Because of its comfort, patients are more likely to use the oral appliance regularly. As a result, many patients see significant improvements in the quality of their sleep and related symptoms. Since sleep apnea increases your risk for other serious health conditions, treatment with an oral appliance can significantly reduce that risk.
Improve the Quality of Your Sleep
If you are struggling to get a good night's sleep due to sleep apnea, contact Smile Montreal today to schedule an appointment. You can also call (514) 937-6558 to speak to a knowledgeable member of our team with any questions you may have.