Stubborn discoloration, chips, and irregularly shaped teeth can take a toll on your confidence. They might even make you avoid smiling.
Drs. Charles and Patrick Casey in Montreal, QC, offer custom porcelain veneers to mask these imperfections.
Find out why so many patients turn to porcelain veneers to boost their confidence and enhance their appearance...
Create The Smile You've Always Wanted
Unfortunately, cosmetic dental flaws can draw unnecessary attention and distract from your smile. With veneers, imperfections big and small can completely vanish. This cosmetic treatment allows you to refine your smile and help your natural beauty take center stage.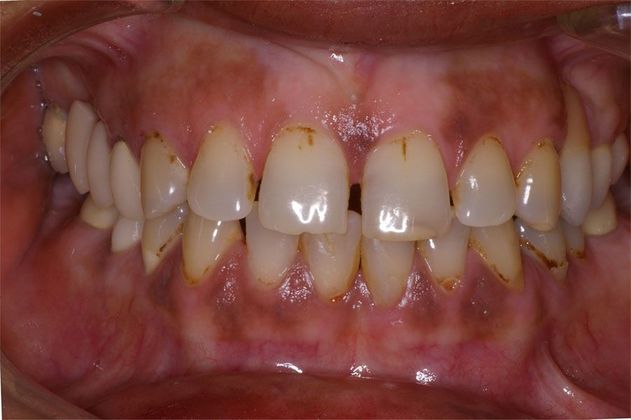 Why Choose Us
for Your Porcelain Dental Veneers?
"Highly Recommended."
Patients Throughout Montreal Share Their Thoughts
I always have a pleasant experience at Smile Montreal. I know the staff works extremely hard yet they always take the time to create a welcoming atmosphere for their patients. Well done Dr. Casey Sr. & Dr. Casey Jr. and all the wonderful staff!!
View On Google
A family run office that has been in business for over 50 years. Both Father and Son Dentists, as well as their Hygienists are professional and remain on the cutting edge of technology. Everyone is caring and friendly. Highly recommended.
View On Google
Don't Be Nervous...
You Can Preview The Results Before You Commit
Drs. Charles and Patrick Casey can create a wax-up model of your results to show you before you undergo treatment. These models replicate the effects of veneers on a wax replica of your teeth so you know exactly what to expect with the procedure. You can suggest changes for the final designs based on the previews, which we will be happy to accommodate.
How Dental Veneers are Placed
"Dr. Patrick Casey and his team are extremely knowledgeable, professional, kind, and great at dentistry with state of art equipment. So happy I am in their care. Wish I found them 20 years ago."

Micheline Syvret
The Porcelain Veneers Procedure
We partner with a world-renowned lab technician to craft veneers that are a near-perfect match to your natural teeth.

Want To Look Your Best For an Upcoming Event?
Get Started on Treatment Today
Thanks to advances in cosmetic dentistry, it has never been easier to enhance your smile. Modern porcelain veneers allow you to transform your teeth in just a few short weeks. This gives you plenty of time to correct dental imperfections before your next big party or reunion, so you can feel like the best version of yourself. Get started on your treatment today by contacting our dental office in Montreal, QC. You can reach us online, or by calling:
See What Smile Montreal Can Do for You
Porcelain Veneers Candidacy
Porcelain veneers are an excellent solution for most patients who wish to conceal minor imperfections that do not compromise the structural integrity of a tooth. Our doctors will conduct an in-depth evaluation of your smile to determine if veneers are right for you. After examining your teeth, we will explain your options. Factors that may affect veneer candidacy include:
Oral Health
Patients should be in good oral health before undergoing any cosmetic procedures. If you have conditions like tooth decay, periodontal disease, or infection, we will need to treat the condition before moving forward with veneers.
Thin Enamel
Prepping for veneers requires removing some enamel before the restorations are secured using dental cement. If you have very thin enamel and cannot safely have this tissue reduced,
dental bonding
(also known as composite veneers) might be recommended instead.
Severe Misalignment
If you have major gaps, crooked teeth, or a misaligned bite,
traditional orthodontics
may be a better treatment option.
Bruxism
Bruxism, or tooth grinding, can put stress on your veneers, causing them to fracture prematurely. If you suffer from bruxism, we may suggest you wear a mouthguard while sleeping to protect your restorations.
To learn more about veneers and your smile makeover options, please schedule a consultation at our Montreal office. After examining your teeth, we can design your personalized cosmetic makeover plan. Send us a message or give us a call:
"Fantastic!"
Giving Montreal a Reason to Smile
Positive experience, warmly greeted. I am beyond thrilled with the experience(s) so far. This practice has dealt with my lifelong issues of a paralysing phobia of dentists and begun rectifying the problems this past week. I have many medical issues that make a trip to the dentist an ordeal, yet Dr. Casey took me on without hesitation. Other dentists were leary of my medical issues and have put me off for years. If you have serious issues and have put them off, here is your solution.
View On Google
The office is very inviting and staff outstanding. Dr. Casey, the father was fantastic! What a pleasure it was to be served by him. He is very much of a professional who was honest to tell me that I did not need the work on my teeth that I thought was needed. He further gave me exceptional advice on cleaning my teeth. Great sense of humor and honest!
View On Google
Veneers are very easy to care for, and you likely already practice the necessary maintenance in your regular dental routine. Tips to ensure a long-lasting veneer include:
Good Dental Hygiene
You should brush your teeth twice daily and floss once a day. You should also attend regular dental check-ups and professional cleanings.
Avoid Pressure on the Veneer
You will need to avoid bad habits that could place undue pressure on your porcelain restorations. For example, biting your nails or using your teeth to open packages can crack your veneers.
Avoid Stains
Once you receive a veneer, you will not be able to change its color. Porcelain is resistant to stains. However, your natural teeth can still become discolored, leading to shade discrepancies in your smile. The best way to maintain a bright, color-consistent smile is to avoid dark foods, drinks, and tobacco products that can stain your teeth.
"Highest Level of Care Possible"
"Best dentist I've ever been to easy... Dr. Casey AND HIS STAFF (can't stress this enough, many reviews speak of Dr. Casey but his staff is equally unbelievable and exceptional) have never judged me and have always been nothing but understanding. If you want the highest level of care possible, this is the place to go."

Gregory Fischer-Rush